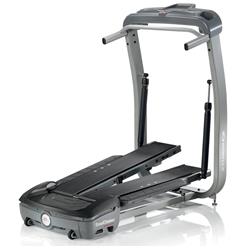 Get the Bowflex TreadClimber TC10 for only $1,599 after a price reduction from $2,199 at Amazon. This deal price saves you 27% off the retail price for this treadmill. Plus, this item ships free. This is the lowest price we could find online by about $300. The Bowflex TreadClimber TC10 features four separate LCD screens, 4 MPH max readout speed, compact design, 300-pound capacity and combines the best attributes of a treadmill, stair climber and elliptical. Sales tax may be charged in some states.
Item Description
Restore and boost your energy while sculpting your abs and legs with the TreadClimber TC10, Bowflex's most affordable powered TreadClimber. The TC10 delivers an impressively low-impact workout that's easy on your joints. As a result, your "perceived exertion" is incredibly low. That means you'll burn more calories on a TreadClimber than you would with other cardio machines, but won't feel as tired when you're done. You'll get the effects–and the results–without feeling the fatigue. A University of Wisconsin study indicates that TreadClimber technology lets you burn up to 3.5 times the calories in the same amount of time as with other cardio machines.
The secret to the TreadClimber TC10 is Bowflex's unique dual treadle system, which offers the benefits of three machines in one. In Action 1, the TC10 performs like a treadmill, with belts that move as you walk forward. In Action 2, the TC10 mimics a stair climber, with two independent treadles that move up and down. When you combine these actions, you get the third machine: an elliptical trainer that provides a smooth, low-impact motion. Cardio training on the TreadClimber TC10 not only helps you lose weight, but it also increases your energy level, improves your bone density, increases HDLs (the "good" cholesterol), reduces back pain, and makes you leaner.
The TreadClimber TC10 comes equipped with an easy-to-read display that monitors your speed, distance, time, and calories. The machine also offers a G.O. Coach console, which tracks the weekly progress of a single user toward a 90-minute goal (the target goal resets weekly). Other features include an instant Quick Start feature, an ergonomic console that provides easy access to water bottles and magazines, a speed range of 0.5 to 4 miles per hour, a rear step platform, transport wheels for easy mobility, and a Bowflex body weight loss plan.