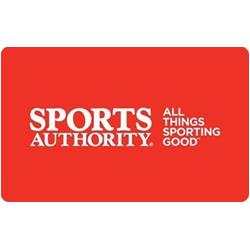 For a limited time, get a $60 Sports Authority Gift Card for only $50 at eBay. When you buy a $50 gift card you get a free $10 code. This deal price saves you 17% off the retail value of this gift card. This item will be emailed to you by the eBay seller, PayPal Digital Gifts, within 24 hours. Use this gift card online at SportsAuthority.com or at over 400 Sports Authority stores nationwide. Sales tax is not charged on the purchase of this gift card.
Item Description
Sports Authority – the nation's preeminent full-line sporting goods chain. Shop online or in-store at over 400 stores nationwide for your favorite brands – Nike, Under Armour, Adidas, Callaway, TaylorMade, Columbia, Easton, Bowflex and more.
This e-card can be used for purchases of merchandise and services at any Sports Authority/S.A. Elite location in the U.S.A. or online at www.sportsauthority.com. This is not a debit/credit card and has no expressed or implied warranties. This e-card may not be redeemed for cash except where required by law. If lost or damaged, it will be replaced upon presentation of proof of purchase and proper identification; however, only the value remaining on the card at the time we reissue the card will be replaced. We are not responsible for unauthorized use in the meantime. Protect this e-card. This e-card is issued by and represents an obligation of TSA Gift Card, Inc., a Virginia corporation, 1050 West Hampden Avenue, Englewood, CO 80110. For a store nearest you dial toll free in the U.S.A. 1-888-LOOK 4 TSA. For balance inquiries call 1-877-720-6609.