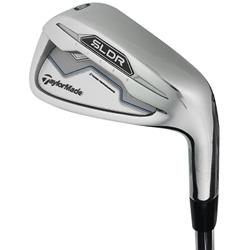 This TaylorMade Golf SLDR Steel Iron Set originally $999.99 drops to $499.99 and then again to $399.99 with coupon code at Rock Bottom Golf. You save 60% off the retail price for this golf iron set when you use the coupon code Independence at checkout. This is the lowest price online for these golf irons by about $260. The TaylorMade SLDR Irons features an improved speed pocket, ThruSlot tecchnology, modern-classic blended shape and a vibration-dampening system. Sales tax is not charged in most states except NY & VA.
Item Description
All players who want the best of both worlds — a traditionally shaped and sized iron that also has modern performance technology that enhances distance, launch angle and forgiveness.
The SLDR iron is ideal for players who want the eye-appeal and responsiveness of a classically shaped iron with as well as modern performance technology that promotes higher and longer shots.
When we say classic looking we mean a simple, triangular shape, not too big, with a thin topline, thin sole and beautiful chrome finish. Many golfers find this look appealing, but don't feel like they have the skill for such an iron. The SLDR iron has changed that – its new, ThruSlot Speed Pocket helps you launch the ball with more speed and with a higher launch angle than you can with past player's iron. The high flight promotes a steep descent angle for quick stops on the green.
We've never made an iron like this that goes this far and feels so good. And it's all thanks to careful calibration of the Speed Pocket's design as well as the discreetly positioned badge on the back that absorbs unwanted vibration.
Any player who loves the look and performance of a classic player's iron, including those who've admired them from afar but convinced themselves they don't have the skill to put them in their bag, will love the new SLDR iron and its extraordinary of beauty and distance-enhancing performance.