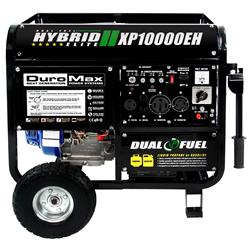 For a limited time, get the DuroMax XP10000EH Portable Gas Propane Generator for only $699.99 after a price drop from $1,999.99 at eBay. This deal represents a savings of 65% off the retail price for this power generator. Plus, this item ships free. This is the lowest price online by about $300. The DuroMax XP10000EH features a max AC output of 10,000W, key start switch, advance oil warning light, volt meter, circuit breaker, power outlets, and runs on gasoline or propane. Sales tax is charged in most states.
Item Description
Be prepared for the big storm or any power outage with the flexibility of the DuroMax XP10000EH 10,000 Watt Hybrid Dual Fuel Generator. Adding the capability of being able to operate on Gasoline or Liquid Propane, you will be able to provide safe, reliable power when you need it while increasing your generator's run time. By also operating on propane, the LPG fuel will not gum up or foul your generator's carburetor while still giving you quick, reliable starts every time. DuroMax Generators are perfect for any application where portable power is needed; whether it's because of a natural disaster or needed for camping in the woods, DuroMax will deliver.
Powering this unit is a 18 Horsepower, DuroMax Over Head Valve Engine. This feeds the fully loaded power panel with a peak 10,000 watts and 8,000 constant watts of power. Also contained on the power panel is the RV Switch, Idle Control, Keyed Electric Start, Engine Shutoff Switch, Volt Meter, and Circuit Breakers. These units are EPA approved for safe use in U.S. National Parks thanks to the quiet exhaust with spark arrestor. The sound level of these generators are 72 dBA while running a load and drops down to 45 dBA while idle control is engaged with no load for an even quieter operation. DuroMax Generators are designed to help you stay safe and secure during any type of power outages; expected or unexpected.