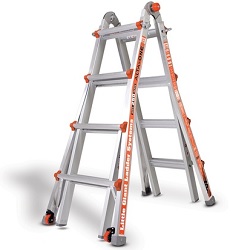 This Little Giant 17Ft. Multi-Use Ladder with Ladder Rack was $388.99 and now is only $179.99 at Groupon. You save 54% off the retail price for this ladder. Plus, this item ships free. This is currently the lowest price online by about $25 and the lowest price we have seen for this ladder was $174.99. The Little Giant Ladder features 24 configurations, 17 feet tip-to-tip, wide-flared legs, hinge locks, telescoping sides, rubberized feet, and tip & glide wheels. Sales tax may be applicable in some states.
Item Description
Like T-1000, this 17ft. ladder can take on many forms: an adjustable extension ladder, A-frame ladder, staircase ladder, and trestle-and-plank scaffolding system. Its hinge locks and rubberized feet keep climbers safe and steady, and a set of Tip & Glide wheels makes it easy to roll from one end of the empty pool you're stranded in to the other.
Versatile ladder with 24 configurations
Measures 17 feet tip-to-tip, highest operating level is 15 feet
Wide-flared legs
Hinge locks
Telescoping sides
Rubberized feet
Tip & Glide wheels
Wall mount ladder rack included
250lb. rated
Dimensions: 24"x8.5"x55"
Weight: 29lb.