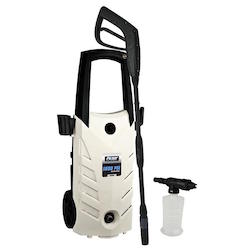 Get the Pulsar 1600 PSI Electric Pressure Washer for only $79.99 after a price drop from $107.99 at Kmart. You save 26% off the retail price for this pressure washer. Plus, this item ships free. This is the lowest price online for this item by about $13. The Pulsar Pressure Washer (Model #APW5005) features a 12 amp motor, soap dispenser, hose connector, and adjustable spray settings. Sales tax is charged in most states.
Item Description
It was once a chore, but now it's fun with the Pulsar 1600 Pressure Washer. Cleaning anything the usual way can be boring and exhausting. Cars leave oil stains in your garage, your fence can start growing mold, your patio can be covered in years of grime, and grabbing a squeegee and bucket is the last thing you want to do. In fact, it's the last thing you should do because it won't get the stains out. But this powerful pressure washer, complete with a soap dispenser, will do the trick without all the scrubbing.
The 1600 PSI Electric Pressure Washer cleans anything anywhere. You can use it to rip through fossilized grease in the garage and move it indoors to tackle those dark spots on the wall. Simply adjust the spray from fine to intense depending on what you want cleaned and blast away. Item's color may vary.