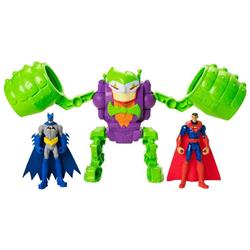 This DC Comics 4″ Batman Figures The Joker Robo Rampage (BHC90) drops from $19.99 to only $12.99 today at Kmart. This deal price represents a savings of 35% off the retail price for this action figure set. Add about $6.50 for shipping or choose free in-store pickup. Even with shipping, this deal price beats most other retailers (not including their shipping cost) by about $0.50, as is the lowest price online by about $2.56 when not considering shipping cost. The Joker Robo Rampage Set includes one Batman figure, one Superman figure and one The Joker figure. Sales tax is charged in most states.
Item Description
The Joker is on a fearsome rampage, and this time his threat is so intense Batman™ must call on his top ally Superman™ to join forces in a tag-team assault.
The Joker has a menacing, mega-sized frozen smile, and his cruel plans are even more treacherous in this gargantuan style. The DC Super Heroes must dodge his barrel-shaped fists that capture everything in their path with mutant strength.
Boys can engage his fists of fury by squeezing his legs and then help our DC Super Heroes outfight and outsmart him. Will they be captured and used for The Joker's evil deeds or succeed and make him a laughing stock?