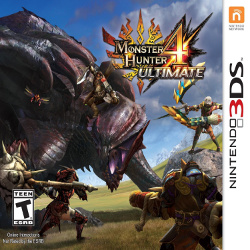 For a limited time, get the Monster Hunter 4 Ultimate for Nintendo 3DS for only $29.99 (Reg. $39.99) at Best Buy. You save 25% off the retail price for this video game. Plus, when you spend $35 or more this item ships free. This is the lowest price online by about $2, although you can buy this on Amazon.com for the same deal price ($29.99). The Monster Hunter 4 Ultimate allows you to step into the role of a hunter who joins a traveling caravan to explore new towns and lands, each with its own unique look and feel. Sales tax is charged in most states.
Item Description
You walk through the brush and into a clearing. Armed with your wits and a powerful weapon that collects the energy from attacks, you feel confident that you're prepared for anything. Out here in the vast wilderness between towns and villages is where the most danger lies. Just as you begin to investigate the massive footprint on the ground, the trees begin to rustle, scaring the birds away. You feel the ground tremble and shake, and then the trees part and a beast of unbelievable proportions emerges. You take a deep breath, charge your weapon and prepare for battle — this is why you are a Monster Hunter.
Become part of a traveling caravan that explores new lands and villages as a hunter in Monster Hunter 4 Ultimate, the latest installment in the popular Monster Hunter franchise. Craft and acquire hundreds of new items and equipment, including all-new rare and powerful G-rank weapons and armor. Take advantage of more fluid climbing motions and the inclusion of jump attacks from walls or ledges to surprise your enemies. Pay attention to the changing terrain that can be altered in battle. Some monsters can cause even ground to slant into a steep slope that could cause you to slide right out of the zone. Jump on top of monsters to deliver a furious burst of attacks with the new gameplay mechanic. Equip yourself with two new weapon classes — the Insect Glaive and the Charge Blade — in addition to the 12 previous weapon types that have been updated and enhanced. Connect with up to three other players over local wireless or via the Nintendo Network to join forces and take down larger-than-life beasts. Do you have what it takes to become the ultimate Monster Hunter?