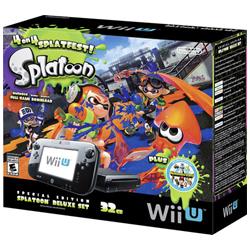 Get the Nintendo Wii U 32GB Console Splatoon Special Edition Bundle for only $279.99 after a price drop from $299.99 at eBay. This deal price represents a savings of 8% off the retail price for this gaming console. Plus, this item ships free. This is the lowest price online by about $60. This bundle includes:
Wii U 32GB Console
Splatoon game, Nintendo Land game
Wii U GamePad cradle, GamePad stand support
Wii U GamePad AC adapter
Wii U AC adapter
Wii U console stand
HDMI cable, sensor bar
Owner's manual
Sales tax is charged in most states.
Item Description
You've been a fan of the action-packed world of Nintendo gaming since your very first console, and some major evolution has taken place since your first journey to the Mushroom Kingdom. Get ready for a whole new way to play with this Wii U Bundle, which includes Splatoon and Nintendo Land games, a sensor bar and more. Enjoy stunning, high-quality graphics, immersive action-packed worlds and an innovative controller design that reinvents the way you interact with games. Explore a vast world of streaming content and surf the Web on the big screen as well. With the Wii U console, the possibilities are endless.
Get messy with Splatoon, a fun-filled third-person action shooter that challenges you to cover levels, and enemies, with a brilliant spray of colorful ink. Take on the role of an Inkling, a squid-like fighter ready to cover yourself and everything around you with your team's hues. Cover the terrain around you in ink to claim it, and spray walls to gain access to hard-to-reach areas. Earn high-powered super weapons by soaking your turf in ink, so you can cover your enemies in color or spray more territory. Put on your thinking cap to dream up devastating strategies, but don't forget to keep an eye on your turf — too much attention on the other team may lead to a redecoration of your own territory. Next, take a trip back in time as you enter a fascinating theme park that showcases 12 amazing attractions, each modeled after one of the most beloved Nintendo franchises of all time. Stay entertained with streaming content from Netflix, Amazon Instant Video, YouTube and more, and access your favorite Web sites, social networks and more with simple Internet browsing. Navigate the stunning virtual worlds of your games or browse through content. Save plenty of game data and more with 32GB of storage. A thrilling world of action and adventure awaits — are you ready for the time of your life?