Quick Notes: 21% off + Free Shipping - Great for College Dorms
The Details
The Arctic King 3. 2 cu ft Two-Door Compact Refrigerator is an excellent way to keep your food and drinks cold in any sized room. The separate freezer compartment gives you plenty of space to store your frozen dinners, ice cream and more. The can dispenser and two-liter bottle rack free up shelf space and make your favorite drinks easily accessible. The stylish stainless steel look will suit all styles of decor and the interior light makes it easy to find your favorite treats. Use the mini fridge in your den, garage, office or dorm room, and it can easily fit in a tight corner or other out-of-the way place. Arctic King 3. 2 cu ft 2-Door Compact Refrigerator not only keeps your favorite food perfectly fresh for longer, but its manual defrost setting allows you to clean whenever you want for optimal cooling and food preservation. Easily set the internal temperature according to your needs, and simply adjust the leg height as this compact cooler fits perfectly in any kitchen.
Model: ATMP032AES
Editor's Notes: This compact refrigerator features a reversible door hinge, veggie & fruit crisper, 2 liter bottle rack, glass shelves, adjustable thermostat and two adjustable front legs.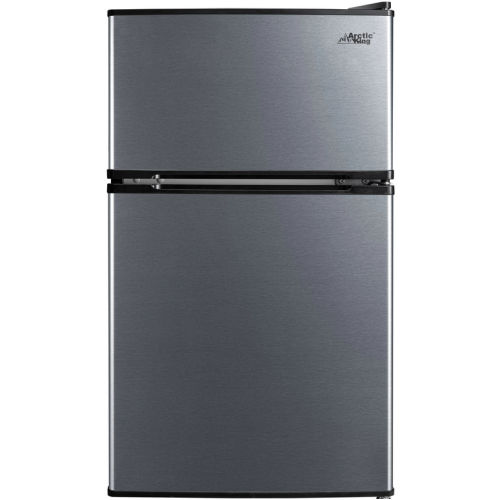 You must be logged in to reply to this topic.