Quick Notes: 39% off + Free Shipping
The Details
The Raspberry colored Baby Trend Jogging Stroller provides a secure and comfortable ride for your baby. It is designed for a child between 6 and 50 lbs and up to a maximum height of 42". It allows you to lock the front wheel in place when jogging and unlock it for lower speeds. This baby jogging stroller comes equipped with an adjustable, reclining, padded seat with a five-point safety harness and all-terrain tires. This allows you to go just about anywhere you need with superior comfort for your baby. The tires are built to handle more difficult terrains than typical strollers so when you are out for a jog the small bumps along the road do not throw you off course. It also features an extra-wide, open wheelbase for exceptional stability. If you are out for a jog in the evening or early morning the footrest reflectors provide greater low-light visibility. This lightweight jogging stroller features a child tray with two cup holders and a convenient parent cup holder.The adjustable canopy with covered sunroof ratchets to block sun and wind to keep baby comfortable. It also has pads that are covered with a soft and luxurious polyester fabric with polyester fill to keep them safe and cozy. With its 16" rear and 12"ront all-terrain composite wheels with air-filled rubber bicycle tires, it is easy to push and offers a smooth and steady ride. It also offers a foot-activated rear brake system and the locking front swivel wheel for extra control. Designed exceptionally with convenient features, the Baby Trend Jogger Stroller in Raspberry will satisfy just about any transportation need.
Model: JG95633
Editor's Notes: Item is currently available for $109.99 as of September 3, 2020.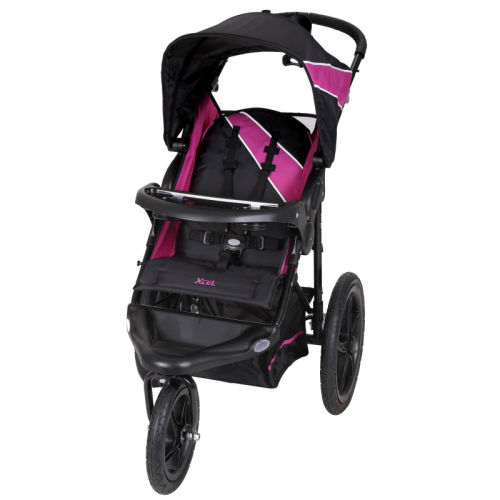 You must be logged in to reply to this topic.