Quick Notes: 42% off + Free Shipping
The Details
Enter the Rainbow Cove with the Barbie rainbow castle. Three colorful floors highlight the rainbow theme with brightly colored backdrops, details and accessories. Colorful turrets, cutouts of butterflies in the door and rainbows everywhere make this castle magical! At the top, sparkly clouds can hold a fairy doll as she spins and overlooks the entire cove (dolls sold separately). It's a magical touch that adds soaring storytelling fun! For classic house play, enter the Barbie castle through the colorfully decorated double doors to find a dining room with a table set for two -- the cute chairs have sculpted backs inspired by the princesses, mermaids and fairies of the kingdom, like a butterfly and flower. A glam chandelier hanging in the dining room adds a royal touch. Take the rainbow-colored stairs to the second floor to use the vanity, closet and bedroom. The gorgeous canopied bed with its purple pillow is perfect for sweet dreams! A shell-shaped mermaid pool creates outdoor space below, while a rooftop deck is a fabulous spot for tea. Tell all kinds of fairytales with this brightly colored rainbow castle -- the possibilities for action, adventure and happily ever afters are endless! The Barbie rainbow castle features spinning clouds and comes with a mermaid pool, a dining table, a tea table, two chairs, a canopied bed, pillow, tea cups, cupcakes on plates, perfume bottle and brush. Doll not included. Colors and decorations may vary.
Model: Rainbow Cove Princess Castle
Editor's Notes: Item is currently available for $198 as of June 20, 2020.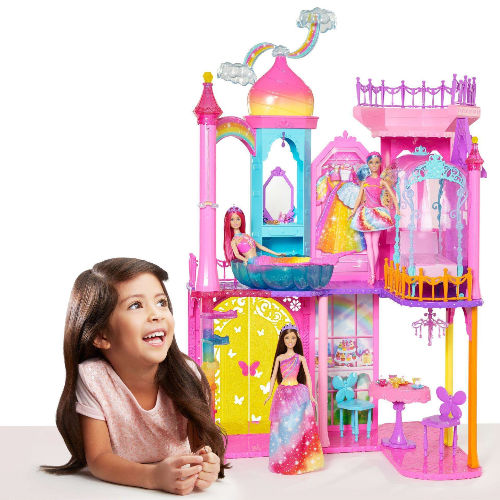 You must be logged in to reply to this topic.