Quick Notes: 25% off + Free Shipping
The Details
The Bresser Comet-Series Telescope Kit with Bag and Binocular from Explore Scientific gives you all you need for a night of wide-field sky viewing with a telescope and tripod, binoculars, and carrying bags for everything. The 102mm telescope utilizes a doublet refractor lens system to virtually eliminate chromatic aberrations for true color transmission across the entire field of view. Fully multi-coated optics maximizes the amount of light entering the optical tube assembly (OTA) for bright and clear viewing. The telescope is equipped with a 2" rack-and-pinion focuser to accept large eyepieces, and a 1.25" adapter to use the more common size eyepieces. An Alt-Az mount lets you quickly move and aim the telescope and the included adjustable height stainless steel tripod provides a solid platform for viewing. A backpack is included for the OTA and accessories, and the tripod straps to the side for easy transportation away from light pollution.
Model: AR102S
Editor's Notes: This telescope kit includes a bag, binoculars, telescope and stand.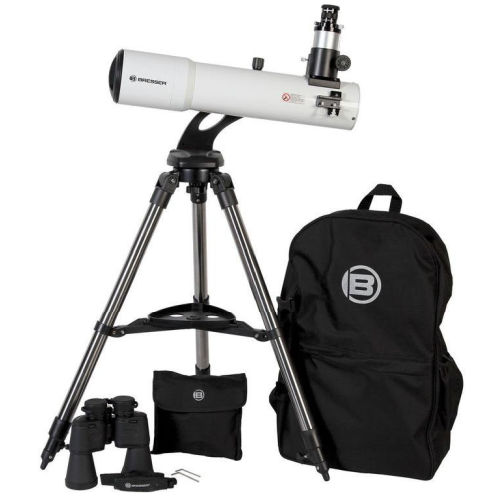 You must be logged in to reply to this topic.