Quick Notes: 40% off + Free Shipping When You Spend $35+
The Details
All aboard! The Cat Power Tracks Friends Train Set is leaving the station, next stop your child's imagination! This interactive motorized character train set is sure to captivate your child's curiosity for hours and teach them a thing or two along the way. Develop fine motor skills while playing by pressing down on the engines helmet to bring the train to life. From there you can control the train's actions easily using the large brightly colored buttons and toggle switch on the train station command hub. Each color will trigger a different action for the train to perform including tooting the whistle, racing around the track once or three times, and running out of fuel and refueling. The included Dump Truck is along for the ride and can be unloaded from its flatbed carrier to haul around any materials near the tracks. The 6 feet of included track is designed to easily and securely snap together forming an oval so the action is always close enough to stimulate your little ones senses. Real Cat machines are known for their high quality, these toys are no different, built to withstand the tough demands of rugged play these vehicles will be your child's go-to toy. Appropriate for ages 2 years and up.
Model: 82489
Editor's Notes: Item includes 6 feet of track, rail car, and dump truck.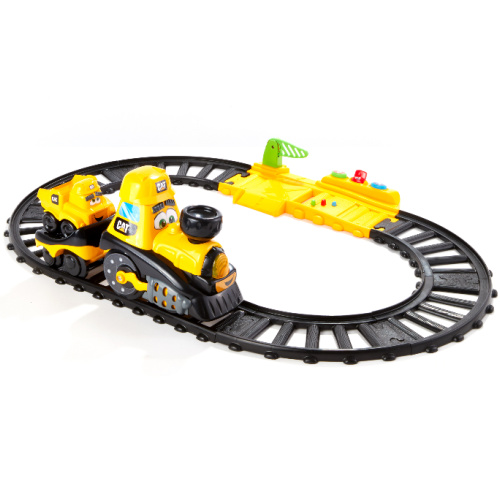 You must be logged in to reply to this topic.