Quick Notes: 16% off + Free Shipping
The Details
Surpass expectations with the Cuisinart Woodcreek 4-in-1 Pellet Grill. Set the bar above all others with a pellet grill that is loaded with features. Sear any steak to perfection with the ceramic briquette insert that allows for high temperatures. Perfect the flavor of charcoal without the hassle, simply insert charcoal tray and light with the turn of a knob. With no shortage of space, the enormous 862 square inches allows you to griddle your favorite dishes while smoking or searing the main course simultaneously. Monitor food easily with the large LCD Bluetooth enabled controller with two meat probes and cooking read outs, the Cuisinart Easy Connect? BBQ app, an appliance grade viewing window, as well as two ten-watt halogen lights making seeing inside a breeze. Achieve the perfect smoke ring on any cut of meat with our insulated lid featuring a gasket seal that locks in the flavor. After indulging in your meal cleaning up is as easy as one-two-three with the express ash clean-out system. The Cuisinart Woodcreek is built for endless possibilities. What will you cook?
Model: Woodcreek
Editor's Notes: Item features a total cooking area of 862 square inches, cast iron cooking grates, and 30-pound pellet hopper.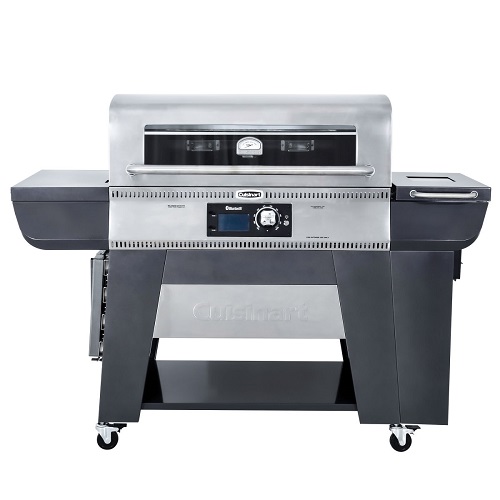 You must be logged in to reply to this topic.