Quick Notes: 42% off + Free Shipping
The Details
Add convenience and color to your space with the Frigidaire Portable 6 Can LED Light up Mini Fridge EFMIS179. This compact refrigerator keeps drinks, snacks, small meals and skin care products ice cold, with a fun, retro-inspired design that infuses a little fun into everyday life with led lights. The Frigidaire mini fridge is built to last, using the same robust technology that's made Frigidaire one of the most trusted names in household appliances for nearly a century. It's designed with a powerful, whisper-quiet, vibration-free motor, harnessing dependable thermoelectric cooling. The unit cools down to 27-36 degrees Fahrenheit below ambient room temperature, keeping beverages at the optimal temperature. One shelf allow for storing multiple items; a compact, see-through window makes it easy to monitor contents. Bold colors an enhance the nostalgia-inspired look and feel; the mini fridge can be plugged into a 12V car adapter or a standard outlet with included cords. Choose from multiple colors.
Model: EFMIS179
Editor's Notes: Item features LED colored lighting inside, 6 can (4 liter) capacity, shelf, top handle, and heavy duty locking latch.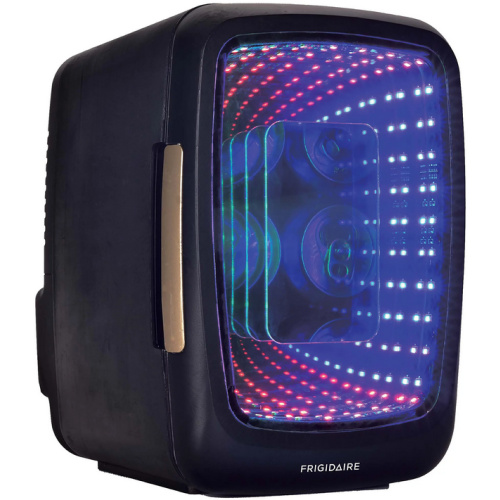 You must be logged in to reply to this topic.