Quick Notes: 58% off + $3.50 Shipping
The Details
Instantly enhance, define, and intensify the look of your eyes, lashes, and brows with this innovative universal, full-size six-piece collection! Superhero Elastic Stretch Volumizing Mascara is formulated to instantly give you the appearance of dramatic lashes. The custom design of the Lash Changing Power Brush has bristles cut at all different lengths so that no lash is left behind -- no matter its length! Forget the lash curlers and combs; you'll notice instantly how each lash stands up at attention, as if it's going up, up, and away! Brow Power Micro Defining Universal Eyebrow Pencil gives you the appearance of your most beautiful, natural-looking eyebrows even if you have none at all! It adheres to skin, covers gray, and looks like real hair! The innovative eyebrow pencil features a 0.95mm tip that mimics the look of real eyebrow hair with each stroke! The universal shade matches every hair color based on how hard or soft you press. Superhero No-Tug Waterproof Gel Eyeliner glides across your eyelids, providing high impact color and youthful definition! The unique formula combines the intense color payoff of Superhero pigments with No-Tug technology for effortless glide -- never tugging, budging, or skipping.
Model: Superhero Eyes & Brow
Editor's Notes: Item includes two 0.3-oz Superhero Elastic Stretch Volumizing Mascara in Black, two 0.0017-oz Brow Power Micro Universal Automatic Eyebrow Pencil in Universal Taupe, and two 0.042-oz Superhero No-Tug Waterproof Gel Eyeliners in choice of Black or Espress.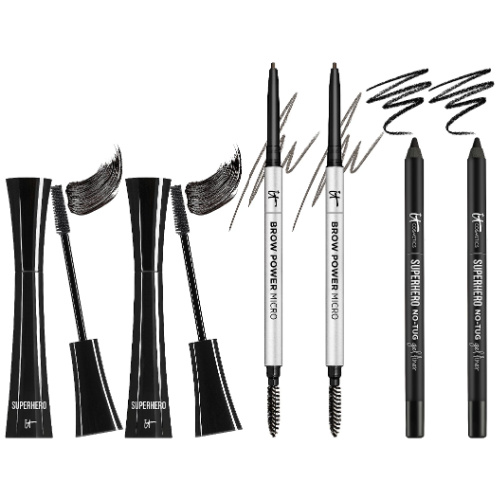 You must be logged in to reply to this topic.