Quick Notes: 40% off + Free Shipping
The Details
Join the Avengers for hours of driveway fun on the 12-Volt Marvel Captain America Motorcycle Ride-On from Kid Trax! This tough toy motorcycle will be a hit for any Avengers fans out there. Just like Captain America and Bucky ride, this motorcycle is perfect for your little hero and their trusty sidekick. The sidecar is removable and easy to attach again when it's playdate time. Hydra doesn't stand a change against the dart launcher and included soft rubber-tipped darts. Real foot pedal acceleration and realistic horn and engine sounds will truly have them feeling like the next Avengers member! This set of wheels has 2 and 4 MPH forward driving options and features Power Trax rubber traction strip tires for smooth riding. Keep the fun going with the included 12-volt rechargeable battery and wall charger. Designed for children between 3-7, this battery-powered toy sits two riders with a combined 100-pound weight limit. Save the day with the 12V Captain America Motorcycle from Kid Trax!
Model: KT1299WM
Editor's Notes: Item features a removable sidecar, dart launcher, realistic horn, up to 4 MPH forward speed, rubber traction tires, and 12-volt rechargeable battery.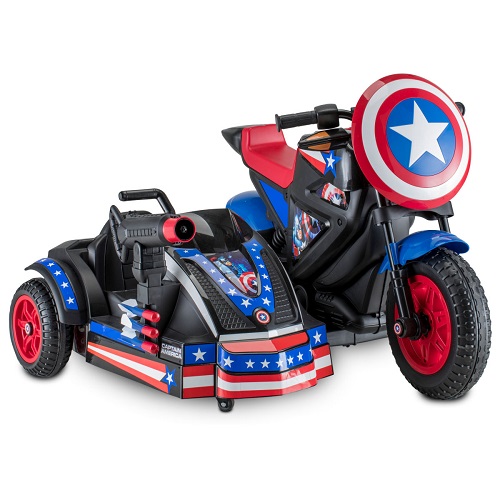 You must be logged in to reply to this topic.