Quick Notes: 33% off + Free Shipping
The Details
Bake, fry, rotisserie, reheat, toast, and grill your favorite meats, breakfasts, desserts and vegetables faster than ever with the Modernhome Aria Digital 10 Quart Air Fryer Oven. Its Air Frying technology replaces multiple appliances and cooks in less time than traditional ovens, while reducing the fat in your food by up to 90% and eliminating the need for oil. The spacious design with 3 cooking levels allows you to cook food for the entire family or all your guests. It also includes a rotating rotisserie spit that spins 360 so you can enjoy evenly-cooked, tender, juicy chicken dinners, while a Spinning Cage steadily mixes your ingredients like fries, vegetables, frozen snacks, and trail mix so each piece is perfectly prepared. An LED touchscreen also features 8 cooking presets for foods such as chicken, beef, vegetables, dessert, and more. The Aria Oven's versatility provides an endless amount of possibilities - and we've included 3 mesh trays for crispy results and maximized cooking area so you can prepare different dishes at the same time. With the dehydration mode, you can preserve your favorite fruits, vegetables, and meats conveniently at home, using your own ingredients that you trust. The included full-color cookbook lets you prepare mouth-watering meals right away. Traditional appliances like a deep fryer, microwave, toaster, convection oven, dehydrator, slow cooker and more can all be replaced with just one device - the Aria Air Fryer Oven.
Model: AAFO-880
Editor's Notes: Item features a 10-quart capacity, rotating accessory rack, and multiple functions (air fryer, toaster, convection oven, dehydrator & more).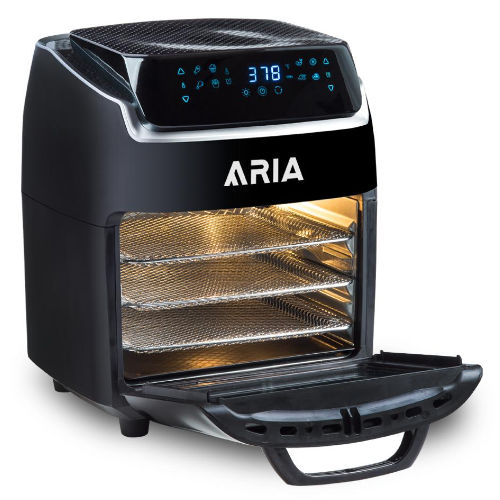 You must be logged in to reply to this topic.