Quick Notes: 15% off + Free Shipping
The Details
Trouble is no match for the Paw Patrol gang! Climb aboard the Paw Patrol Sea Patroller and help Ryder on his rescue missions as captain of the ship. This boat is ready to set sail on the high seas with its flashing lights, sounds and a detachable anchor all at your service. Command the lifesaver launcher, crane and cage, perfect for getting Ryder in hard-to-reach places, to save Baby Octopus. Terrain changes are no match for this dual boat/land vehicle: slide the bridge forward and drop down the wheels to be propelled over any rocky road that dares to challenge your patroller! Need extra help on your rescue mission? There's room for all Paw Patrol figures aboard the Sea Patroller, two extra vehicles or Ryder's ATV, unleashed on the front-opening ramp. For those missions that require a higher approach, use the helipad on the back of the ship to launch any Paw Patrol member up, up and away!
Model: 6037845
Editor's Notes: This item is currently out-of-stock as of May 13, 2020.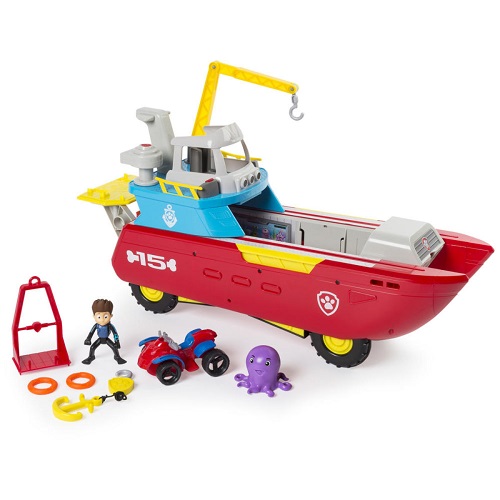 You must be logged in to reply to this topic.