Quick Notes: 40% off + Free Shipping
The Details
Mighty missions call for a mighty team vehicle: introducing the PAW Patrol Super PAWs Mighty Jet Command Center! This 2-in-1 deluxe team vehicle transforms from jet into a mobile command center for the PAW Patrol! On land, lift the handle on the jet to switch into mobile command headquarters. With room for all the Mighty Pups (figures sold separately) and one Deluxe Mighty Vehicle (sold separately), the pups can get ready for adventures inside. When it's time for a rescue mission, pop the included exclusive Mighty Ryder figure into the cockpit, and load the disc launcher. Close the headquarters back into Mighty Jet and soar through the sky! Push the button on the front of the jet to launch the discs and take down obstacles. With real lights and sounds and realistic details, the PAW Patrol's Mighty Jet is ready for anything! Rescue in a tight space? Ryder is on the case! Open the jet back into command center, and push the button to eject Ryder and his mini jet – continue to launch discs and help save the day! For more mighty land rescues, load a pup into the vehicle and release it from the cargo pit in the back of the jet! Take to the skies with the PAW Patrol and their Mighty Jet Command Center!
Model: 6053097
Editor's Notes: Item is currently available for $48.99 as of July 17, 2020.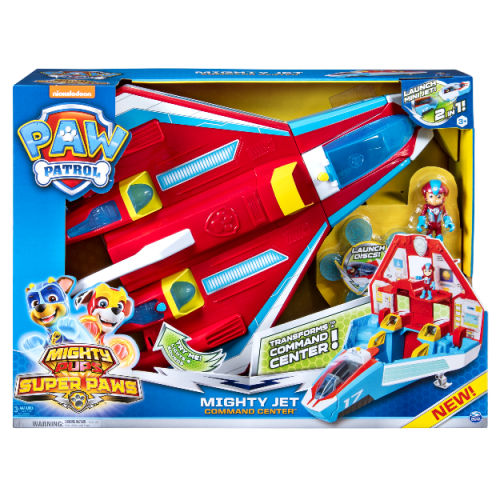 You must be logged in to reply to this topic.