Quick Notes: 25% off + Free Shipping
The Details
Go green with this awesome Razor EcoSmart Metro Electric Scooter. Its 16" pneumatic tube tires on spoke wheels let the rider experience unparalleled comfort and undeniable convenience. This 36V electric scooter requires no gasoline, making it an eco-friendly choice of bikes. It also has a bamboo deck. The frame features a powder-coated finish, which keeps it as new as you first got it. Plus, the hip decals are pretty sweet. Rear disc brakes ensure powerful stopping abilities and provide you with excellent control over the scooter. Rear wheel drive allows for more traction when under power as well as smoothing out bumps for better control and maneuverability. This Razor EcoSmart Metro Electric Scooter includes a standard replaceable bicycle seat that you can adjust to a desired height for a personalized fit. This electric scooter has a top speed of 18 mph and can hold a charge for up to 40 minutes. It's ideal for short trips and quick commutes.
Model: EcoSmart Metro
Editor's Notes: Item features a padded seat, wide bamboo deck, 16" air-filled tires, 500W high-torque motor, 12-mile range, rear-wheel drive, and goes up to 18 MPH.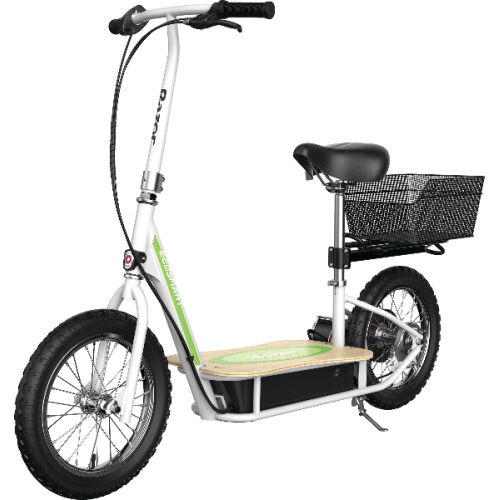 You must be logged in to reply to this topic.