Quick Notes: 24% off + Free Shipping
The Details
The Reebok Deck enables you to perform effective cardio workouts based on aerobic stepping, plus it can convert into a flat, incline or decline weight bench for strength training and conditioning. When used as a step, the Deck's height of 8 inches is ideal for low impact aerobics but, if you're looking to increase the intensity, simply use the integral risers to elevate the deck to 14 inches. This is versatility at its very best. Cardio - Performing step aerobics on the Deck is the simplest way to raise your heart beat and burn a substantial amount of calories in a short amount of time. The step height can be set at either 8 or 14 inches, depending on your preferred intensity level. Strength training - Easily transform the Reebok Deck to bench mode and you can focus on strength training by slotting resistance tubes into the custom holes or adding dumbbells to work specific muscle groups. Often, when switching from cardio to strength training during a workout, a large and varied range of equipment is required, but with the Reebok Deck you have all you need in one clever package whereby your resistance bands and dumbbells can be stored inside the internal storage compartment. Toning - Change the incline of the bench to strengthen and flatten your abs, or perform more intense stretches. It takes a mere few seconds to adjust the leg and back positions of the Reebok Deck with a simple click and lock mechanism. Out of the box, the Deck comes in its original Step position. To transform into the Deck, simply pop it on its side and move the legs out until you hear a click. To release the legs, squeeze the handles neatly located at either end of the Deck and fold the legs back in. With its natural inertia, low center of mass and non-slip rubber surface, the Reebok Deck remains very stable and safe throughout every workout. And, compact in size, can be easily transported and stored away until your next workout.
Model: HHBA-REDECK
Editor's Notes: This item is currently out-of-stock as of May 26, 2020.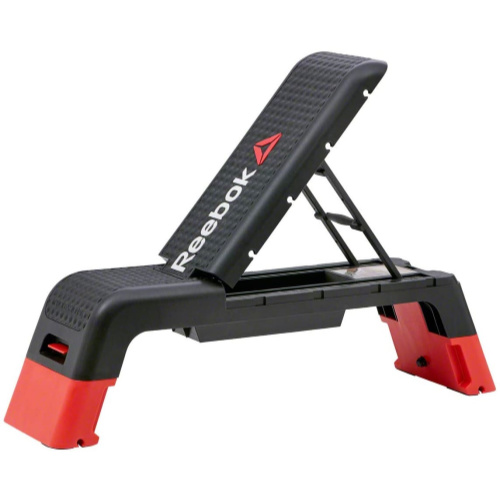 You must be logged in to reply to this topic.