Quick Notes: 9% off + Free Shipping
The Details
The Pioneer Woman Vintage Speckle 24-Piece Mother's Day Cookware Combo Set is ideal for outfitting your kitchen with everything you need to prep, cook and bake any meal in your repertoire. This stunning set features an 8-piece aluminum cookware set, four ceramic measuring cups, four ceramic measuring spoons, a pre-seasoned cast iron skillet with silicone handles, two pre-seasoned cast iron au gratins, two acacia wood tools and a nylon spatula. The cookware is available in two signature shades: turquoise and red. Each ceramic piece in the set beautifully complements each shade, adding a touch of whimsy with each design.
Model: 116097.24R
Editor's Notes: This cookware set includes a 1-qt sauce pan with lid, 2.5-qt sauce pan with lid, 5.5-qt Dutch oven with lid, 9.5" fry pan, 12" skillet, 4 ceramic measuring bowls, 4 ceramic measuring spoons, 8" cast iron skillet, 2 mini au gratins, 2 silicone sleeves, Acacia wood turner, Acacia wood spoon, and Nylon spatula.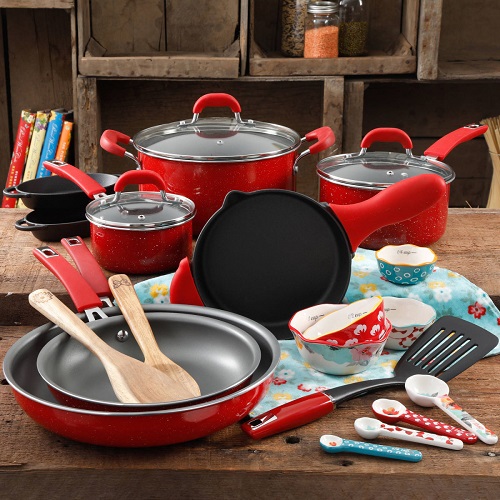 You must be logged in to reply to this topic.