Quick Notes: 15% off + FS $35+
The Details
Make meal prep more beautiful with The Pioneer Woman Mixing Bowl Set. These artful mixing bowls can go from the kitchen to the dinner table with effortless elegance and style. The Pioneer Woman makes dishes, serving bowls and other everyday kitchen accessories that infuse vitality, color and nostalgic charm into your everyday life. The designs are intricate and striking, but with a relaxed, vintage-inspired charm that makes them ideal for nearly any occasion. The Pioneer Woman Cornucopia mixing bowls are almost too pretty to be relegated to the kitchen, featuring detailed embossing and rich jewel tones. Each bowl in the three-piece set features a different embossed pattern and color; the 10" bowl is adorned with abstract snowflake embossing and finished in a gorgeous Claret shade; the 8.5" bowl features floral embossing and a bright, cheerful Ocean Teal color; the 7" bowl celebrates fall with a leaf print and a warm Pumpkin hue. They're microwave and dishwasher-safe, for easy use.
Model: 111193.03R
Editor's Notes: Item is currently available for $19.97 as of October 9, 2020.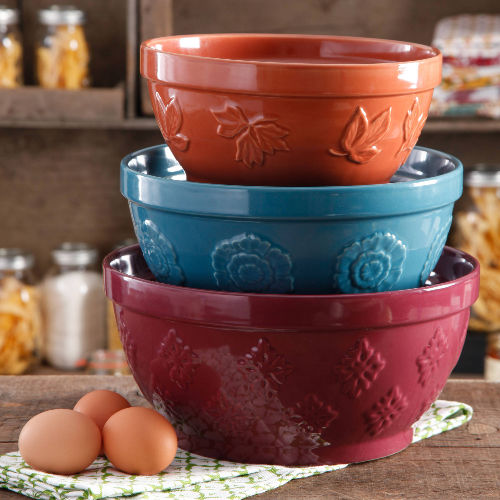 You must be logged in to reply to this topic.